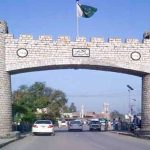 ISLAMABAD: The Supreme Court on Monday adjourned the contempt case proceedings against State Minister for Interior Tallal Chaudhry for an indefinite period.
A three member bench hearing the case was also dissolved due to the retirement of Justice Ejaz Afzal Khan, who presided the bench.
Subsequently the matter was referred to the Chief Justice Mian Saqib Nisar to constitute a new bench to hear the case.
After being presented with a charge sheet, Chaudhry had denied the contempt allegations and pleaded not guilty.
Kamran Murtaza, counsel for Chaudhry, had requested the bench to show restraint and consider the SC recent decisions not to initiate contempt proceedings against deposed prime minister Nawaz Sharif, Punjab Chief Minister Shehbaz Sharif and Railways Minister Saad Rafique.