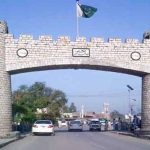 ISLAMABAD: The Supreme Court of Pakistan Thursday adjourned hearing into final appeal of Asia Bibi, an accused for blasphemy, after one of its bench members refused to hear the plea.
A three-member bench of the apex court, comprising Justice Mian Muhammad Saqib Nisar, Justice Muhammad Iqbal Hameed Ur Rehman and Justice Muhammad Manzoor Mali, was to take up the appeal today.
However, Justice Muhammad Iqbal Hameed Ur Rehman refused to be part of the bench on the grounds that he had also heard the Salmaan Taseer murder case in the Lahore High Court. "I was a part of the bench that was hearing the case of Salmaan Taseer, and this case is related to that," he told the court.
After the bench's dissolution, the case was referred back to Chief Justice of Pakistan Justice Anwar Zaheer Jamali.
This was final appeal of Asia Bibi, a Christian mother on death row since 2010.
She is accused of insulting the Prophet Mohammed (PBUH) during an argument with a Muslim woman over a bowl of water. Her supporters maintain her innocence and insist it was a personal dispute.
Taseer, who spoke against the death sentence and sought reforms in the country's blasphemy law, was gunned down in Islamabad in 2011 by one of his own bodyguards. His assassin, Mumtaz Qadri, was hanged earlier in 2016.
Bibi's lawyer Saif-ul-Mulook said he will seek to have her death sentence overturned.
After she was sentenced to death six years back, her successive appeals were rejected by courts, and if the new bench upholds the conviction, her only recourse will be a direct appeal to the president for clemency.
She would become the first person in Pakistan to be executed for blasphemy.
Up to 100 police, many in riot gear, were deployed outside the Supreme Court in Islamabad as Bibi's lawyer and husband arrived.
Observers have warned of possible violence if the conviction is overturned, with some calling the case a battle for Pakistan's soul as the state walks a line between upholding human rights and appeasing hardliners.