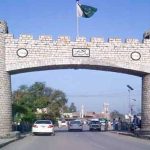 ISLAMABAD: Supreme Court on Wednesday adjourned the hearing of NA-125 rigging case against Railway Minister Khawaja Saad Rafique without any proceedings.
A three-member bench headed by Justice Ejaz Afzal was to conduct hearing in the case after a span of one year and eleven months.
Election Tribunal had ordered re-election in the constituency after irregularities on the seats were proven during the 2013 general elections.
Minister for Railways Khawaja Saad Rafique had secured 123,416 votes whereas his contender Hamid Khan had obtained 84,495 votes from NA-125 constituency.
Pakistan Tehreek-i-Insaf's (PTI) Hamid Khan had challenged Rafique's victory, alleging that the PML-N candidate had rigged the elections, and a large number of bogus votes were cast in his favour.
While challenging the verdict SC, Saad Rafique appealed against the decision of election tribunal that had deseated him from the National Assembly (NA) and ordered re-polling in the constituency.
During the hearing, lawyers of both the parties excused themselves from providing arguments in the case due to personal reasons.
The court while accepting their request adjourned the hearing till January 12.