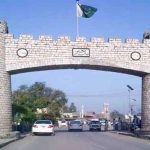 ISLAMABAD: Supreme Court (SC) has adjourned hearing of Panama Papers case till Monday due to unavailability of senior judge, Justice Azmat Saeed Sheikh.
Justice Saeed on Tuesday underwent angioplasty at Rawalpindi Institute of Cardiology (RIC) after a heart attack. He has been advised a complete rest at least for one week.
Justice Azmat Saeed is part of a five-member SC bench that is hearing the Panama leaks case against Prime Minister Nawaz Sharif and his children on daily basis.
Today, the bench headed by Justice Asif Saeed Khosa adjourned the case without any proceedings due to unavailability of Justice Azmat Saeed Sheikh.
Justice Khosa said Justice Azmat is recovering but he will remain under observation of doctors for three to four days. Therefore, hearing of the case is being djourned till Monday.
The bench is hearing petitions seeking disqualification of the prime minister over the investments made in offshore companies by members of his family.