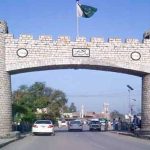 ISLAMABAD: The Supreme Court (SC) on Tuesday dismissed a plea challenging the candidature of Pakistan Tehreek-e-Insaf (PTI) spokesperson Fawad Chaudhry his home constituency of NA-67, Jhelum.
A two-member bench headed Justice Azmat Saeed rejected the petition filed by Pakistan Justice and Democratic Party (PJDP) member Syed Fakhar Haider challenging the approval of Chaudhry's nomination papers.
Last month the Lahore High Court (LHC) had accepted Chaudhry's plea and allowed him to contest the upcoming general election.
Meanwhile, the top court dismissed a petition of Pakistan Muslim League-Nawaz (PML-N) leader Hanif Abbasi against a high court order directing to conclude the ephedrine case against him by July 21.
During the proceedings, Abbasi's lawyer Kamran Murtaza argued that the high court could change the trial's date.
However; Justice Ijazul Ahsan remarked that under Article 203 of the Constitution, the high court has the authority to do so.
The bench then dismissed Abbasi's petition.