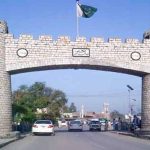 ISLAMABAD: The Supreme Court (SC) on Friday dismissed a petition challenging the nomination papers of former prime minister Shahid Khaqan Abbasi for NA-57 Rawalpindi.
Rejecting the petition filed by Masood Ahmed Abbasi, the top court allowed the former prime minister to contest the upcoming general election.
Masood Ahmed Abbasi had moved the top court on Thursday against the approval of the former premier's nomination papers for NA-57 Rawalpindi I constituency.
The petitioner had alleged that Shahid Khaqan Abbasi misstated facts in his nomination papers.