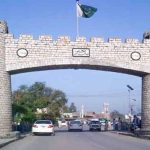 ISLAMABAD: The Supreme Court of Pakistan on Wednesday appointed lawyer Ahmer Bilal Soofi to assist in the repatriation of the country's former envoy to the United States (US) Husain Haqqani.
The bench resumed the hearing of the Memogate case against Haqqani. Director-General of Federal Investigation Agency (FIA) Bashir Memon was also present in court. "Is it true that someone has refused to issue Husain Haqqani's red warrants?" Chief Justice of Pakistan (CJP) Mian Saqib Nisar questioned.
DG Memon informed the court that he discussed Haqqani's case with the Americans. "They say that we also have one of their people in custody," Memon added. "I even showed them the red warrant against Haqqani."
"Did the US government refuse to hand over Haqqani?" the CJP questioned further. "So if a US citizen gives a statement under oath to the US Supreme Court and does not appear in front of the court, and if the US asks for him, Pakistan can also refuse to hand him over?" the CJP thundered.
DG Memon informed the bench that he had informed US authorities of corruption allegations worth Rs4.1 billion against Haqqani that are pending. "They agreed to cooperate. But the same thing happened in the case of Altaf Hussain, founder of the Muttahida Qaumi Movement (MQM)," he added.
"There are five Indians in the Interpol, but no Pakistanis. We belong to a poor country," DG Memon said in court.
Earlier, Interpol dismissed Islamabad's 'attempts' to issue arrest warrants against Haqqani.
"The General Secretariat of the International Crimi­nal Police Organisation, Interpol, hereby certifies that as of April 18, 2018, Husain Haqqani is not subject to an Interpol Blue Notice or diffusion and is not known in Interpol's data basis," a letter reads which was released by Interpol's office of legal affairs.
The certificate was issued on the request of Haqqani's lawyer amid newspaper reports in Pakistan that DG FIA went to Interpol headquarters in Lyon to seek warrants for his arrest.
Previously, the Interpol had refused to honour warrants against the former diplomat's arrest issued by the Supreme Court on grounds that charges against him were 'political'.