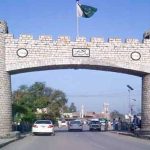 ISLAMABAD: The Supreme Court of Pakistan on Monday declared that the Gun and Country Club in the federal capital is illegal and ordered the Pakistan Sports Board to take over the land.
While heading a bench hearing a case related to the club and the construction of a marriage hall on its premises, Chief Justice of Pakistan Justice Mian Saqib Nisar said that the Gun and Country Club has no legal standing. "The land on which the club has been established belongs to Pakistan Sports Board and people who are members of the club took membership at their own risk," the chief justice asserted.
"There is no legal approval for the construction of the club," the chief justice remarked.
Justice Nisar further directed the sports board to "take over land" on which the Gun and Country Club is established as well as the marriage hall constructed on the premises.
A Musharraf-era notification regarding the club's establishment was also nullified by the court.
Further, the bench directed Survey of Pakistan to demarcate 145 acres of land on which the club is established within two weeks and also ordered the sports board to employ the gun club's employees.
The chief justice also referred the matter regarding returning membership fee to the relevant ministry.
"We will establish a polyclinic on this land," Justice Nisar remarked.
"In 1975, 145 acres of land was leased and in 2008 the lease was extended for 33 years," the bench observed.
It added, "Capital Development Authority (CDA) was not asked before leasing land to the gun club."
Earlier as the hearing went under way, Additional Attorney General Nayyar Rizvi asked the top court for two days to provide details regarding the land lease.
However rejecting his request, Justice Nisar said, "If I give you time the case will keep dragging on."
Further, Justice Ijazul Ahsan asked, "What is this gun club?"
"A shooting club was established for safe games," the additional attorney general responded.
To this, Justice Nisar questioned, "The land was allotted to the sports board, how was a gun club established on it?"
The Gun and Country Club counsel then informed the court, "CDA gave the land on lease to the sports board and the club administration leased it from them."
The gun club has no relation with the land, Justice Ahsan remarked.
Justice Nisar then asked, "Does the land belong to the CDA or sports board?"
"The club administration constructed a pool on the premises and will also make rooms in the future," the chief justice added.
The Gun and Country Club was established in 2002 at the foot of Shakarparian Hills.
The club provides state-of-the-art rifle shooting facilities consisting of indoor and outdoor ranges. It is located within the area allocated to the Pakistan Sports Complex, just minutes away from Zero Point.