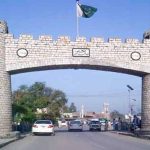 ISLAMABAD: The Supreme Court Friday extended deadline for concluding Al-Azizia and Flagship references against former prime minister Mian Nawaz Sharif till December 24.
Accountability Court Judge Arshad Malik today wrote a letter to the apex court for seek ing another extension in the deadline to conclude the cases.
The Supreme Court fixed the application of the accountability court for immediate hearing and summoned the counsel for Nawaz Sharif, Khawaja Haris.
A three-member bench headed by Chief Justice of Pakistan Justice Mian Saqib Nisar heard the accountability court application.
During the hearing, the chief justice and counsel for Nawaz Sharif exchanged heated argument over delay in the cases.
The chief justice held Khawaja Haris responsible for delay in the conclusion of the case, while Haris rejected the impression and offered to quit the case of the chief justice felt he was delaying the case.
When the chief justice asked him that when he would complete his arguments, Haris replied that he would complete his arguments by 4pm on December 17.
The court then directed Haris to complete his arguments by 4pm on December 17 and ordered the accountability court to announce a decision by December 24.