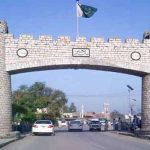 ISLAMABAD: The Supreme Court on Thursday directed ISI, MI and IB to provide support to police in arresting SSP Rao Anwar who is wanted in the Naqeebullah Mehsud murder case.
Proceedings of the Naqeebullah Mehsud murder case suo moto were held at the apex court during which judges asked ISI, MI and IB to support police in apprehending fugitive Rao Anwar.
The proceedings were conducted by a three-member bench headed by the Chief Justice of Pakistan. The apex court granted IG Sindh 10 days to arrest Rao Anwar and forbid media to broadcast any video or audio message of the suspect.
"It would be better for Rao Anwar to present himself before the court otherwise proceedings of contempt would be initiated against him," remarked the bench.
In response to being asked as to when he would produce the suspect before the court, IG Sindh AD Khawaja said that he would try to bring Rao Anwar before the court the next day.
Naqeebullah's cousin Noor Rehman questioned the judge as to how witnesses could feel safe when Rao Anwar was still at large.
"You are counted as a Pakistani–whenever you say I will come to FATA," responded the Chef Justice. "If our limits go to FATA we will provide protection till there."
Noor Rahman wondered how Rao Anwar could evade the police and the state considering that he was not as powerful as the aforementioned.
"The apex court had given a deadline of three days to police to arrest Rao Anwar," complained Noor Rahman.
The chief justice urged Noor Rehman not to return from the court disappointed and stressed that the reality was that Rao Anwar had yet not been arrested.
The chief justice remarked that when the courts issue judgments in every case then it is referred to as 'judicial activism'.
Justice Saqib Nisar urged IG Sindh to take every measure to arrest Rao Anwar and warned that the suspect may flee to another country whenever an opportunity came his way.
"If Rao Anwar is able to escape from the country he will not return for several years," remarked the chief justice. "If he does not return for several years, how will we do justice then?"
The chief justice asked IG Sindh whether Rao Anwar was at a place where the police could not locate him to which AD Khawaja responded that if the suspect's location was disclosed then he could be arrested from anywhere. "Once the sim is taken out of the phone you cannot put a trace on it," said IG Sindh.
The chief justice stated that Rao Anwar was in contact with media via WhatsApp to which IG Sindh responded that the suspect had turned off his phones from January 19.