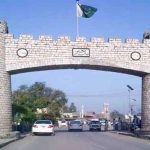 ISLAMABAD: Supreme Court (SC) on Monday has ordered Panama Joint Investigation Team (JIT) head Wajid Zia to review the tempering of Securities and Exchange Commission of Pakistan (SECP) record.
While conducting hearing on JIT petition regarding security concerns, a three-member SC bench has directed the team to continue its work without getting under pressure.
Justice Ijaz-ul-Hassan said that eight people are attacking JIT by using different channels. He said that media or political leaders cannot regulate our registered authorities while he also asked Attorney General to assist them in this regard.
Meanwhile, Justice Azmat Saeed asked whether extension in Director General Intelligence Bureau's (DG-IB) tenure was according to the law or not.
Subsequently, the court has adjourned the hearing till Tuesday.
Earlier today, the hearing was postponed till 1:00pm as JIT members were unable to reach the court on time.
On the other hand, JIT also met to review documents and record submitted by Prime Minister (PM) Nawaz Sharif and Chief Minister of Punjab (CM) Shehbaz Sharif at Federal Judicial Academy.
On June 15 and June 17, PM Nawaz and CM Shehbaz Sharif appeared before JIT respectively and recorded their answers regarding Panama Papers case.
The prime minister had said never before in the history of the country, three generations of a family were held accountable the way his family is being done. He said the present process of accountability has been extended to period beyond his birth.
Shehbaz Sharif had said that he has always ensured the supremacy of the Constitution and law while he also pledged to cooperate with JIT.