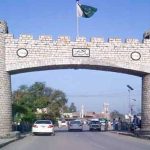 ISLAMABAD: Supreme Court of Pakistan has directed PEMRA and Information Ministry to ensure an efficient media campaign for the fund announced by Supreme Court of Pakistan for Diamer-Bhasha & Mohmand Dams for raising public awareness.
A four-member Bench passed this order while hearing Constitution Petition in Islamabad headed by Chief Justice Mian Saqib Nisar.
The Court said that branches of all Banks across the country receiving such deposits shall prominently display banners on their entry points stating that donations and contributions are being received in these branches for the construction of Dams.
The order said that donations can be made at all Branches of the State Bank of Pakistan, all Treasury Offices and Branches of National Bank of Pakistan as well as other Banks including Micro Finance Banks.
It said that such donations can be made in the form of cash, cheques, pay orders, demand drafts and prize bonds deposited either at the counters or through online transfers. The Banks receiving such donations shall provide duly stamped signed receipts acknowledging receipt of the donations.
It said that the State Bank of Pakistan has set up a Toll Free Helpline No.021-111-723-273 for answering queries as well as receiving complaints from anyone interested in making a donation. Other Banks shall also set up their separate Helplines which will be notified through their advertisements in the Print and Electronic Media.
It said that an IBAN Number has also been allocated to facilitate receipt of online donations and contributions in the fund through internet banking and ATMs. This IBAN Number shall be displayed on the websites of the State Bank of Pakistan and the Supreme Court of Pakistan.
The court said persons wishing to make donations through Credit/Debit Cards may do so without any extra charge on payments made through such Cards if these are issued domestically. However, payments made through credit/debit Cards issued outside Pakistan will be subject to charges applicable in the respective countries.
The Ministry of Foreign Affairs has been directed to issue appropriate directions to the Pakistani Missions abroad in consultation with the State Bank of Pakistan for receiving donations or contributions and transmission of the amounts received by them to the designated account of the Fund with the State Bank of Pakistan.
The court also directed to Pakistani Missions as well as all Branches of Pakistani Banks abroad to receive donations and remittances from abroad shall be displayed on the websites of this Court as well as the State Bank of Pakistan.
Similarly subscribers of cellular mobile phone companies wishing to make donations of contributions may dial short code ie 8000 which will result in an automatic deduction of ten rupees.
The donations made to the Fund shall be treated as contributions towards charitable purposes and shall not be liable to any tax duty whatsoever.