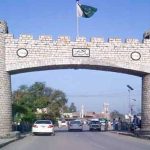 ISLAMABAD: Supreme Court (SC) on Wednesday dismissed a petition seeking accountability of judges and army generals through parliament. The petition also called for making 'Sadiq' and 'Ameen' part of the code of conduct of the judges.
Chief Justice of Pakistan (CJP) Mian Saqib Nisar heard the appeal, filed by Watan Party through lawyer Barrister Zafarrulah, in his chamber after the registrar office raised objections on the petition.
The registrar office had stated that the petition was based on mala fide intents, adding that it cannot be entertained under Order XVII, Rule 5 of the Supreme Court Rules 1980.
The CJP rejected the plea by Watan Party, sustaining the objections raised by the SC registrar.
In the petition, Watan Party prayed to the court that; Oaths taken by judges of the Supreme and High Courts may include the words 'Sadiq' and 'Ameen'; 'Sadiq' and 'Ameen' may be made part of the Code of Conduct of the judges; the SC may not take over the jurisdiction of the Parliament or overlap jurisdiction which challenges stability of democracy; all accountability of higher judiciary be conducted by a parliamentary committee since the "SC itself has failed to conduct its own accountability"; and that the SC and army generals may surrender their accountability to public through Parliament.