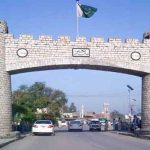 ISLAMABAD: The Supreme Court on Wednesday dismissed an appeal filed by the Sindh government, challenging the Sindh High Court verdict which declared the devolution of the Jinnah Postgraduate Medical Centre and other hospitals to the province under the 18th amendment unconstitutional.
A three judge bench headed by the Chief Justice of Pakistan (CJP) Mian Saqib Nisar stated that Jinnah Hospital Karachi will remain under control of the federal government.
Earlier, the court had reserved the verdict after hearing arguments from lawyers of the federal and the provincial governments.
The provincial government had challenged the high court judgment, contending that after the18th amendment was passed, the health department fell under provincial authorities.
"The hospitals are neither part of the federal list nor figured on the concurrent list," it said, stressing that the JPMC, National Institute of Cardiovascular Diseases (NICVD) and National Institute of Child Health (NICH) exclusively fell in its domain.
The top court had earlier suspended the SHC verdict until further orders.
The 18th Amendment in the constitution of Pakistan on April 19, 2010 enhanced the provincial autonomy and devolved several federal ministries to the provinces including the health portfolio. After the amendment was passed, scores of federally governed hospitals also devolved to the provincial health departments.