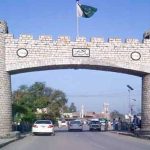 ISLAMABAD: The Supreme Court of Pakistan on Monday disposed of a suo motu case pertaining to the non-availability of courts and police in tribal districts after the 25th constitutional amendment.
The apex court bench headed by Chief Justice of Pakistan Mian Saqib Nisar disposed of the case after an assurance by the federal law officer and Advocate General of Khyber Pakhtunkhwa regarding provision of all such facilities in the tribal areas at the earliest.
The chief justice said in his remarks that the tribal districts should have facilities at par with the rest of the country and the laws of the country should apply there.
The chief justice had had taken suo motu notice of the lack of courts and police in the tribal areas after their merger with Khyber Pakhtunkhwa.