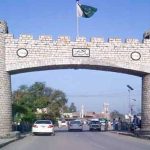 ISLAMABAD: Chief Justice of Pakistan Gulzar Ahmed Tuesday expressed anger over non-submission of important documents by the National Disaster Management Authority (NDMA) while hearing a suo motu case pertaining to coronavirus.
Justice Gulzar Ahmed reprimanded the attorney general and said the NDMA did not submit the required documents despite being directed thrice by the apex court. NDMA Chairman Lt. Gen. Muhammad Afzal has failed to satisfy the court, he said.
"What is this non-serious behavior? Shouldn't we send contempt notice to the NDMA chief? It looks like the NDMA should be dissolved. The institution must prove transparency through documents instead of verbal claims only."
Justice Ijaz ul Ahsan asked about the details of chartered plane and its expenditures. The chief justice remarked that payment was made to the company which had no link with the matter. Apparently, Pakistani embassy in China gave cash payment, the CJP added.