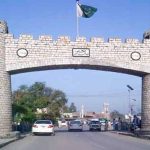 ISLAMABAD: Supreme Court (SC) on Tuesday has stated that we don't have concern over expenses being utilized to fight coronavirus but on the standard of services provided to the people suffering from this pandemic.
During the hearing on coronavirus suo moto case, Chief Justice of Pakistan (CJP) Gulzar Ahmed said that suspected patient of the virus tests positive from government lab but at the same time, he gets clean chit in the report of private lab.
The employees of SC Lahore registry are also facing the same contradiction in the coronavirus test results, he added.
Earlier, SC had directed Commissioner Karachi to open all sealed markets of Karachi even on Saturdays and Sundays. "Has pandemic promised government to not spread on weekends or the government gets tired on Saturday and Sundays or sun rises from the west on weekend?" he asked.
CJP had directed Commissioner Karachi to ensure implementation of Standard Operating Procedures (SOPs) instead of sealing the markets.
Chief Justice of Pakistan Gulzar Ahmed remarked that if the shops are shut down then shopkeepers will 'die of hunger rather than the coronavirus'.
He further stated that authorities should not spread fear among masses and directed concerned officials to not take bribes or misbehave with the businessmen and customers.