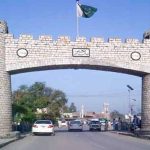 ISLAMABAD: The Supreme Court of Pakistan on Monday expressed dissatisfaction over report submitted by an intelligence agency regarding the source of funding of Khadim Hussain Rizvi, the leader of the religious party behind the Faizabad sit-in last year.
The apex court had taken notice of the anti-judiciary remarks during the weeks-long protest and the subsequent blockades of roads.
A two-member bench of the court, headed by Justice Qazi Faez Isa, heard the case today.
Expressing dissatisfaction with the report of the country's premier intelligence agency on the issue, Justice Isa remarked that the bench, at the last hearing, had inquired from the agency to inform it of the source of Rizvi's funding.
The court inquired from the deputy attorney general (DAG), who submitted the report on behalf of the agency, how he can be satisfied with the agency's report and expressed surprise that the agency is unaware of Rizvi's source of income. Justice Isa remarked that he fears [for the country] after reading the report.
"He [Rizvi] destroyed property worth billions yet no one knows what he does," Justice Isa remarked during the hearing.
Justice Isa asked what about Rizvi's profession, wondering if he is a businessman, cleric or does something else.
He observed further that it is difficult to make Pakistan but easy to destroy it.
The court also suggested that it can conduct an in-camera hearing if a sensitive issue is involved.
Directing the DAG to re-submit the report through the attorney general's office, the hearing was adjourned for two weeks.