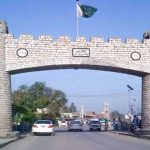 ISLAMABAD: Supreme Court (SC) on Thursday granted a six-month extension to Chief of Army Staff General Qamar Javed Bajwa in his service tenure.
The SC while announcing its short written order gave six months to the government for the legislation on the matter from the Parliament.
"The court will review the legislation on the matter after six months", the SC's judgment in the case reads.
The SC further said in its judgment not to use its shoulder in this matter and the detailed verdict will be pronounced later.
The apex court sought an undertaking from the government that it would legislate on the matter within six months, which was submitted by the government side.
The SC bench headed by Chief Justice Asif Saeed Khan Khosa, and comprises of Justice Mazhar Alam and Justice Syed Mansoor Ali Shah took up the case.
Earlier in the day, the Attorney General of Pakistan (AGP) Anwar Mansoor Khan presented a new summary regarding extension in the service of COAS General Bajwa.
The CJP expressed disappointment over the summary for mentioning the Supreme Court's proceedings in the draft notification.
"Bear your own burden, why do you use our name? Do your own work, why do you drag us in the middle?" Justice Khosa questioned.
He directed the AG to remove the name of the court from the summary."We can only give advisory when the President of Pakistan asks", he continued.
The court proceedings were adjourned till 1 pm, after reserving the verdict.
Foolproof security measures were put in place to deter any untoward incident, while unauthorized persons have been banned entering the Supreme Court building.
Earlier, the federal cabinet approved circulation summary of Army Chief General Qamar Javed Bajwa's tenure extension.
A new summary regarding the extension of Chief of Army Staff (COAS) General Qamar Javed Bajwa was formulated by the Federal Government after the Supreme Court heard a case into the matter.
During the last hearing of the case on Wednesday, the top judge of the Supreme Court, Justice Khosa had remarked that the amendment in Army Rule could not be applied to the rank of Chief of Army Staff (COAS) as the Army Chief is a commander which is a separate category.
Justice Khosa questioned Farogh Naseem for the time for the retirement of the Army Chief. Naseem answered that the tenure of COAS will expire on Thursday's 12:00 midnight.