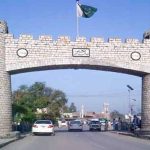 ISLAMABAD: The Supreme Court of Pakistan (SCP) on Tuesday granted six-week extension to accountability court to conclude trial against former prime minister Nawaz Sharif and his family members in Alazizia and Flagship references filed by the National Accountability Bureau (NAB).
During the hearing, Chief Justice Mian Saqib Nisar remarked, "It is being said repeatedly that the court is doing injustice. What sort of service is being done by such conversation?"
Yesterday, Nawaz and Maryam had requested for five-day exemption from hearing in Alazizia reference case. The accountability court however; granted them a three-day relief.
Medical report of Kulsoom Nawaz was also submitted in the court.
Earlier, Sharif was convicted and sentenced to prison in absentia by the accountability court in Avenfield reference case, a verdict that is likely to further disrupt an already chaotic campaign for national elections this month.
The sentence, 10 years in prison and a fine of 8 million pounds, or $10.6 million, came almost a year after Supreme Court removed Sharif from office and less than five months after the court barred him from holding office for life.
The case stemmed from the Panama Papers leak that disclosed expensive and undeclared property owned by the Sharif family in London.
The verdict marked a further fall for the PML-N supremo, who has been Pakistan's prime minister three times but never completed a term.
From the start of the ex-PM's legal troubles in 2016, Sharif's daughter Maryam Nawaz Sharif and her husband, Muhammad Safdar, were also convicted, with Ms. Sharif sentenced to seven years in prison and a fine of 2 million pounds and Safdar sentenced to one year in prison.
The court also ordered the seizure of the Sharif family's four apartments at Avenfield House, a luxury building next to Hyde Park in London.