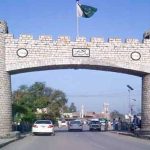 ISLAMABAD: A two-member bench of the Supreme Court on Thursday conducted hearing of suo moto notice of the religious parties' sit-in staged at Faizabad Interchange that had brought routine life to a standstill.
As the hearing began, the apex court grilled government officials and asked, "How did the protesters get teargas shells and sticks?"
"If you cannot secure the federal capital, how will you secure the country?", Justice Mushir Alam asked the Islamabad advocate general.
The bench took up the nine-page report submitted to the apex court on Wednesday on behalf of Inspector General of Islamabad Police Khalid Khattak.
Justice Qaiz Faez Isa asked the deputy attorney general how many people had died, how many were injured and how many public and private assets were damaged during the protest.
Justice Qazi Faiz Essa expressed resentment, saying that people stage protest to fulfill their goals.
He further warned to stop maligning Army as it's not separate from the government. Those who do this, are actually having some personal agendas, he continued.
Justice Isa censured the media for fanning the conflict. "Is it easy to say hateful things?" he asked, questioning the government as to why no action had been taken against the media.