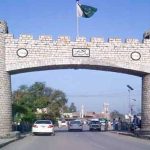 ISLAMABAD: The Supreme Court on Thursday rejected the police report submitted in a case pertaining to target killing in Dera Ismail Khan.
A three-member bench headed by Chief Justice of Pakistan heard the case pertaining to the incidents of target killing and sectarian violence in Dera Ismail Khan.
Inspector General of Khyber Pakhtunkhwa Police submitted the report in the court which satated that several steps including strike operation and formation of check posts have been taken in the province.
The CJP remarked that effective steps have not been mentioned in the report. "A report made while sitting in office is not acceptable," he said.
The Chief Justice directed to implement serious and useful measures to establish peace and prosperity. The safeguard of people's life and property is the responsibility of state, he added.
The KP lawyer told that conditions have worsened in the area. "Why the relevant measures are not being taken then?" asked the CJP.
He directed provincial chief secretary to submit detailed report of the matter in court.