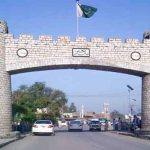 ISLAMABAD: The Supreme Court of Pakistan Wednesday indicted Maulvi Iftikhar-ud-Din Mirza for using derogatory, contemptuous and scandalous language against the judiciary in a video that went viral last month.
The apex court conducted a hearing of the case against Mirza and after the indictment, gave him a week to respond to the charges against him.
During the hearing, Mirza unconditionally apologised to the court and said that he was ashamed. "I ask forgiveness from you as a Muslim," he said. "I apologise for my statements in the video."
Mirza said that he had no knowledge of the editing and uploading of the video. The chief justice, in return, expressed anger at the derogatory language used in the video.
"This is not a case of forgiveness. You cannot mock the judiciary, in this way, Pakistan's entire system will fail," he remarked. "You were using such [derogatory] language from the Minbar of a mosque that even an illiterate person wouldn't use," he added.
The bench said that it was not satisfied with the written responses submitted by Mirza in previous hearings of the case.