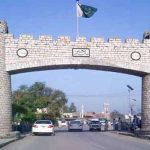 ISLAMABAD: Supreme Court of Pakistan issued contempt of court notice to former SSP Malir Rao Anwar in Naqeebullah Mehsud murder case as he failed to appear in today's hearing despite the court waited for him for an hour. The hearing has been adjourned for 15 days.
Reversing previous judicial order, Chief Justice of Pakistan Justice Mian Saqib Nisar ordered to freeze all bank accounts of Rao Anwar, saying, "We have sympathies with the bereaved family of Naqeebullah Mehsud."
Heading a three-member bench, he said sometimes the results get delayed however no one can run from the law for long, adding the police are making strenuous efforts in this regard.
The CJ directed ISI, MI, IB to assist Sindh police in locating Rao Anwar. The court also summoned details from FIA and FC in this regard.
Inspector General of Sindh Police AD Khawaja told the court that Rao Anwar called him up through WhatsApp on the heels of previous hearing and informed that he will appear before the court.
Justice Aijaz-ul-Ahsan asked AD Khawaja if Rao Anwar is in Islamabad. The police chief responded that he does not about this.
The counsel said the witnesses consider themselves insecure in Karachi; hence, they want to move to other cities. The court responded by directing IGs of all provinces to provide security to the witnesses.
Opening the case proceeding earlier today, the Chief Justice said it is incumbent upon the police to arrest Rao Anwar, the main accused in the murder case of Naqeebullah Mehsud, a youth from Waziristan, living in Karachi, adding all other state institutions will be on their mark to offer assistance.
He said the court granted protective bail to him but he (Rao) wasted a well-deserved opportunity.
CJ asked IG Khawaja if Rao Anwar will come today. The Sindh police chief responded, "Rao Anwar hasn't shown up so far."
The Chief Minister questioned as to what the court should do. Later, the the court stopped the proceedings to wait for Rao Anwar to appear before the court for an hour.
In the previous hearing, Chief Justice directed Rao Anwar, who is popularly known as 'the encounter specialist' to appear before in today's hearing.
In the last hearing, CJ Nisar revealed Prime suspect in the Naqeebullah murder case, Rao Anwar, wrote him a letter and claimed his innocence.
Granting Rao Anwar's request CJ Nisar ordered that Rao Anwar should not be arrested but be given an opportunity to present himself before the court.
"Let him come to court. We shall constitute a JIT for him," said the chief justice. "If something happens to Rao Anwar then all evidence will be eliminated."
The chief justice said that Rao Anwar had written a letter to him which he handed to IG Sindh AD Khawaja. The police chief remarked that the signature seemed to be Rao Anwar's.
"According to Rao Anwar, he is innocent and has nothing to do with Naqeebullah's death," he said.
Rao Anwar had claimed on January 13 he killed four operatives of the banned Tehreek-e-Taliban Pakistan (TTP) in an encounter near Shah Latif Town in Karachi.
He also claimed Naqeebullah had affiliation with the banned TTP and was living in Karachi's Sohrab Goth area using a fake name.
However, the members of Naqeeb's family claim that he wanted to become a fashion model but he was killed in a fake police encounter.
He was picked by plainclothes personnel on January 3 from a teashop in Sohrab Goth, said an eyewitness on a condition of anonymity.
Naqeeb remained unaccounted for at least ten days after which his family recognized him when news channels aired pictures of terrorists killed in an encounter. The family received his body from Chhipa Welfare Association morgue later in Karachi.