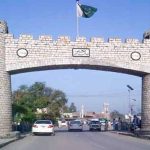 LAHORE: The Supreme Court of Pakistan on Thursday issued a notice to Tehreek-i-Labbaik Pakistan (TLP) chief Khadim Hussain Rizvi on Punjab government's petition challenging the Lahore High Court (LHC) decision to grant him bail.
A two-member bench of the Supreme Court, comprising of Justice Manzoor Ahmed Malik and Justice Qazi Mohammad Amin Ahmed was hearing the Punjab government's petition.
Additional Prosecutor General Mazhar Sher Awan told the court that Khadim Hussain Rizvi had given speeches against the judiciary while leading protest demonstration against Asia Bibi's acquittal.
SC expressed displeasure with the additional prosecutor general for being unable to provide the court with proper assistance.
The SC issued notices to the TLP chief on the Punjab government's appeal and adjourned proceedings.