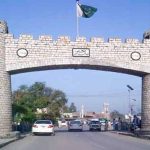 ISLAMABAD: The Supreme Court on Tuesday issued a notice to then chief minister of Punjab Nawaz Sharif in a suo motu case pertaining to illegal construction of shops on Pakpattan shrine's land in 1985.
A three-judge bench headed by Chief Justice of Pakistan Justice Mian Saqib Nisar heard the suo motu case. Additional advocate general Punjab and Dewan Ghulam Qutab's lawyer Iftikhar Gilani appeared before the court for the hearing today.
As the hearing went under way, the bench was informed that 8,000 kanal land of the Pakpattan shrine belonging to the Auqaf department was sold as per an order in 1985 to Dewan Ghulam Qutab. "However, later the Auqaf department declared it a charitable endowment and a court judgment has also been passed in this regard," the bench was further told.
Justice Nisar then asked, "Was permission given to construct stores on the Auqaf department's land 29 years ago? And if yes, then under which law was the permission granted?"
The chief justice also questioned who the Auqaf secretary was in 1985. "We will issue a notice to him as well," he remarked. The additional advocate general Punjab informed the chief justice that then Auqaf secretary has passed away.
Justice Nisar then questioned, "Under which law was the notification taken back?" To this, Iftikhar Gilani said, "The land was taken back as per the same authority under which it was given."
"After 29 years, the top court is stating that the notification was unconstitutional," he added.
Responding to Gilani, Justice Nisar remarked, "Supreme Court had the authority to say that and is the protector of the Constitution." However, the lawyer stated, "The people of Pakistan are the protectors of its Constitution and the Supreme Court is also answerable to the law and Constitution."
The chief justice then asked Gilani to lower his voice and mind the way he his speaking.
Gilani then said, "In such circumstances, I will request that you do not hear my cases."
However, Justice Nisar said, "I will hear your cases. Whenever you come to court you attack it and think that judges are your children."
Dewan Qutub's lawyer then said, "If you want to issue notices then issue them to all owners of such properties across Pakistan. There are 8,000 such people." Justice Nisar then stated, "We will issue notices to everyone."
The bench then issued a notice to Nawaz Sharif and adjourned the hearing for an indefinite period.