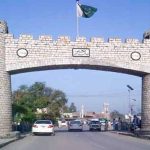 ISLAMABAD: Supreme Court of Pakistan (SC) on Wednesday issued notices to Pakistan Muslim League Nawaz (PML-N) supremo Nawaz Sharif and Maryam Nawaz on appeal lodged by National Accountability Bureau (NAB) challenging suspension of jail terms in Avenfield reference.
As per details garnered, a three-member bench headed by Chief Justice of Pakistan (CJP) Justice Saqib Nisar began hearing of the case here in Islamabad today. SC also issued notice to the anti-graft watchdog.
As the hearing underway, CJ remarked that jail term of Capt (retd) Safdar is very low and therefore, notice would not be issued to him.
Later the hearing was adjourned till November 6.
Earlier yesterday, SC constituted three-member special bench to hear petition of NAB seeking reinstatement of prison term of Sharifs in Avenfield reference.
In its plea challenging suspension of jail term of Pakistan Muslim League Nawaz's (PML-N) supremo Nawaz Sharif, his daughter and political heir Maryam Nawaz and son-in-law Capt (retd) Safdar, NAB states, "IHC had failed to appreciate that through its order, it had seriously prejudiced the case of the prosecution by holding that the trial court judgement suffered from obvious and glaring defects and infirmities and that the convictions and sentences handed down to the accused might not be sustained ultimately".
It is pertinent here to mention that Islamabad High Court—on September 19—had annulled jail term of Sharifs awarded to them by an accountability court in Avenfield reference case.