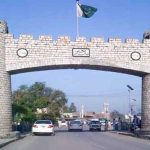 ISLAMABAD: The Supreme Court of Pakistan Friday issued stay order against the audio leaks judicial commission and suspended commission notification and its May 22 order.
The five-member larger bench of the Supreme Court led by Chief Justice Umar Ata Bandial issued short order of the today's proceedings. According to written order of the court, the hearing of the case has been adjourned till May 31.
The court suspended the notification of May 19 for the formation of the Justice Qazi Faez Isa-led judicial commission for investigation into audio leaks regarding judiciary. The court also suspended the proceedings and May 22 order of the commission. The court ruled that consultation with the chief justice was a must for nomination of the members of the commission. The court issued notices to all respondents including attorney general and adjourned the hearing till May 31.