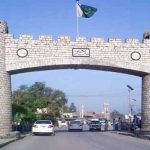 ISLAMABAD: The Supreme Court on Monday directed to form a committee headed by surgeon general of Pakistan for the medical examination of money laundering suspects Anwar Majeed and Abdul Ghani Majeed.
As per details, the SC orders came following the plea of Federal Investigation Agency (FIA). The court also directed to submit the report of the medical examination within five days after formation of committee.
"Isn't this the failure of Sindh government that a single patient is not been diagnosed," remarked the CJP.
While expressing resentment over Jinnah Medical Complex Karach's medical superintendant Dr Seemi Jamali, the Chief Justice maintained that the hospital is unable to treat the suspect's hemorrhoids.
"I honored the MS during my visit there and did not went towards the MRI machine. Who was inside it? Do not force me to give remarks about Sindh government. How many days does it take to treat hemorrhoids? Should I sent homeopathic medicine?" he questioned.
The suspects' lawyer Ayesha Hamid argued that the Supreme Court should not interfere in the case as it is under hearing in the relevant court.
"The matter pertains to Sindh then why Punjabi doctors should carry out the checkup?" she criticized. "Do not bring provincialism in the case," directed Justice Umer Ata Bandial.
The hearing of the case was adjourned until September 24.