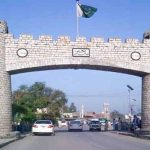 KARACHI: The Supreme Court of Pakistan on Saturday directed Sindh Inspector General AD Khawaja to arrest suspended SSP Malir Rao Anwar in three days.
A three-member bench headed by Chief Justice of Pakistan Mian Saqib Nisar was hearing a suo moto notice on Naqeebullah Mehsud's killing in alleged police encounter in the apex court's Karachi Registry. The judges included Justice Gulzar Ahmed and Justice Faisal Arab.
Sindh Inspector General (IG) AD Khawaja, Sanaullah Abbasi and Azad Khan appeared before the court.
The CJP expressed great resentment over the absence of Anwar in the court and asked the Sindh IG, "Where is Rao Anwar hiding? We had ordered him to appear before the court in personal capacity. Where is he?"
"The court should be told what procedure the police has adopted for Rao Anwar's arrest?" the CJP inquired.
Sindh IG responded that the police has tried its best to arrest Anwar but could not find about his whereabouts.
"He has become a fugitive despite our utmost efforts to arrest him. We have conducted raids and also placed notices at his residence," explained AD Khawaja.
"Mr Khawaja! Has anyone hidden Rao Anwar?" asked the CJP. "Work independently. Don't come into anyone's pressure," the Chief Justice advised Sindh IG.
The court while adjourning the hearing has also summoned the travel details of Rao Anwar.