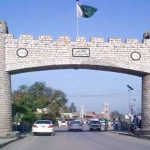 ISLAMABAD: The Supreme Court on Monday ordered an inquiry into the mistreatment allegedly meted out to the daughter of Khawar Fareed Maneka by Punjab police personnel and interference in the matter by political personalities.
Chief Justice of Pakistan Mian Saqib Nisar had last week taken suo motu notice of the transfer of former Pakpattan DPO Rizwan Gondal, allegedly over an altercation with Maneka, ex-husband of First Lady Bushra Imran.
A three-member bench headed by the CJP today directed authorities to submit the inquiry report within a week.