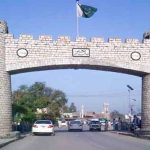 KARACHI: The Supreme Court on Saturday accepted appeals of civil society against the Sindh High Court decision in Shahzeb Khan murder case and directed place Shahrukh Jatoi and other suspects Exit Control List (ECL).
A three-judge bench, headed by the chief justice, gave this direction while hearing the appeals of civil society assailing the verdict that led to the release of key suspect Shahrukh Jatoi and other convicts on bail.
The bench ordered issuance of bail-able warrants for the arrest of all the suspects and issued notices to all the parties to submit their response.
Members of civil society had filed appeals in the apex court challenging the Sindh High Court's November 28 verdict that led to the release of Shahrukh Jatoi and other accused in the case.
Advocate Faisal Siddiqui, who represented members of civil society, pleaded that the state was protecting the suspects in the high-profile murder case.
The top court had vast powers to hear and decide the appeals, he argued.