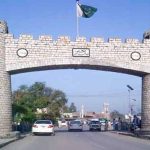 ISLAMABAD: Chief Justice of Pakistan (CJP), Justice Saqib Nisar has ordered an inquiry against the country's former aviation head Shujaat Azeem for allegedly mismanaging Pakistan International Airlines (PIA).
A three-member bench of the apex court headed by CJP while hearing a suo motu case on the national airlines' reported privatisation and poor financial conditions, the CJP also ordered to place name of Shujaat Azeem on Exit Control List (ECL).
After receiving a briefing on the losses of national flag carrier, Saqib Nisar remarked that major losses were inflicted on PIA in the tenure of Shujaat Azeem and added that he could not leave the country.
The court also ordered the National Accountability Bureau (NAB) to file a reference against him after holding an inquiry.
As the hearing went under way today, the CJP vowed that all those who damaged PIA would not be spared.
The court was briefed that PIA has faced losses of Rs. 28 billion in 2001, Rs. 36 billion in 2008, Rs. 44 billion in 2016 and Rs. 45 billion in 2017.