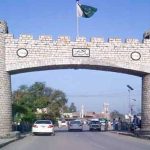 ISLAMABAD: The Supreme Court (SC) has ordered to place names of Axact CEO Shoaib Shaikh and other accused on the Exit Control List (ECL) in a case pertaining to issuing fake degrees.
In today's hearing, Federal Investigation Agency (FIA) Director General (DG) Basheer Memon informed the SC bench that Axact ran websites of 330 universities which did not even had campuses.
After hearing DG FIA, the court ordered Sindh Hig Court (SHC) to hear the case and decide it within two weeks.
The court also ordered the SHC and Islamabad High Court (IHC) to promptly decide on the pending cases regarding Axact.
SC also directed the lower courts to suspend bails of the accused if they did not cooperate with the courts.
Chief justice Nisar had taken suo motu notice of the Axact fake degree scandal last month after national and international news reports said over 3,000 United Kingdom (UK) citizens had purchased fake degrees from Axact in 2013 and 2014.
The recent news came to forth just months after an in-depth investigation by Canada's national broadcaster uncovered that hundreds of people working in diverse fields across Canada possessed bogus degrees issued by Axact.