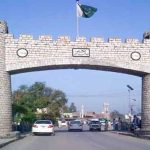 LAHORE: Taking notice of spurious appointments, the Chief Justice of Pakistan (CJP), Justice Saqib Nisar has ordered the re-appointment of the Vice-chancellors of several institutions.
During the hearing of cases in Lahore registry, the CJP said that the court be informed as to why were seniors ignored in the appointment process and who was responsible for this.
Secretary Higher Education said that the commission needs till August to do this task upon which the court gave a month and a half for the same citing the elections as the reason for not giving more than a month and a half.
Earlier, the CJP had taken suo moto notice of the appointment of the vice-chancellors of the Punjab University and Lahore College for Women University.
Meanwhile, the Supreme Court has ordered to put the name of Afzaal Bhatti on ECL while hearing the case of irregularities in Punjab Institute of Cardiology.
Talking to Khawaja Salman Rafique, Advisor to Chief Minister on health, the Chief Justice of Pakistan said that whatever is happening in the department will become a part of the charge sheet against him.
He expressed regret on this occasion and remarked that the institutions are being destroyed by political appointments and vowed that he would not stay silent now.