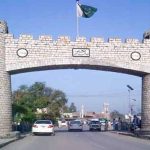 ISLAMABAD: The three-member bench of the Supreme Court has issued a written order to postpone the hearing of the suo motu notices and constitutional cases until the rules are formed.
The three-member bench of the court issued the written order in a case related to giving extra marks to Hafiz Quran. The 9-page decision has been written by Justice Qazi Faez Isa, while Justice Shahid Waheed has submitted dissent note.
The written decision states that the Constitution and the law do not allow the Chief Justice to form a special bench. Laws for petitions under Article 184 (3) regarding petitions. Justice Qazi Faez Isa's decision states that there are no rules for setting up suo motu cases and benches. The order states that hearings on important constitutional and sou motu cases should be postponed until the rules are formed.
The written decision also states that PEMRA's ban on criticism of judges is a violation of the Constitution and Islam. During the hearing, it was brought into the notice of the court, the PEMRA imposed the ban under Supreme Court's decision. The court decision does not allow PEMRA to issue such orders. The district judiciary judges work more than Supreme Court and High Court judges.
The written decision states that PEMRA has never imposed a ban on criticism of district judiciary judges, and not holding accountable judges who make others accountable is against the Constitution and Sharia. Public trust is earned by institutions themselves.