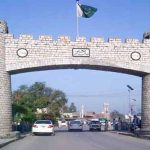 QUETTA: The ousted prime minister Nawaz Sharif on Saturday has said that Pakistan Muslim League-Nawaz (PML-N) and Pashtoonkhwa Milli Awami Party (PMAP) were united adding that he would always support PMAP chief Mahmood Khan Achakzai.
Addressing the rally at Ayub Stadium, Nawaz Sharif directed to remove bullet proof glass from the dais and said, "I removed it so that you can see me clearly."
He said that his all the politics is based on an ideology and he respects it.
My relationship with Balochistan is strong and unbreakable, he added.
The former premier assured to lead Pakistan towards development by ensuring supremacy of constitution and law.
He said that Khan Abdul Samad preferred to be sentenced instead of compromising on principles and democracy.
Roads and motorways are being constructed in the province to provide transportation facilities to the citizens, he continued.
He added that Pakistan would progress with the betterment of Balochistan.
Commenting on the National Accountability Bureau (NAB) references, he said that no corruption charge has been surfaced during his tenure.
"Judicial authorities said that Nawaz Sharif is not trustworthy and disqualified me," he continued.
He said that the people of Pakistan have rejected Supreme Court (SC) decision to oust him, saying that it should have sacked him over some proper allegations.
Me and my family members are being subjected to revenge in the name of accountability, he reiterated.