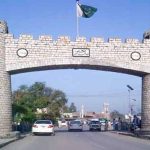 ISLAMABAD: The registrar of the Supreme Court (SCT) Tuesday returned the intracourt appeal of former PML-N senator Nehal Hashmi on Tuesday after raising technical objections over his appeal.
Earlier, Nehal Hashmi submitted intra-court appeal in Supreme Court (SC) against his sentence in contempt of court case.
Hashmi insisted that his speeches did not come under contempt of court, saying that he was also a lawyer by profession. He said that despite his unconditional apology, he was convicted by the court.
He said that the court should have showed lenient behavior in his case as the record did not show any contempt of court attempt.
The former senator requested the court to annul his punishment.
Earlier on February 1, SC had sentenced Senator Nehal Hashmi to one month in prison and Rs50,000 fine over contempt of court case against him.