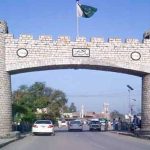 ISLAMABAD: Despite compromise deal with the victim, the acquittal appeal of an acid attack convict was rejected by the Supreme Court on Thursday.
Heading a bench of the Supreme Court, Chief Justice of Pakistan Asif Saeed Khosa remarked that the acid attack offenders do not deserve any clemency. The Supreme court bench was hearing acquittal appeal of Javed Iqbal, who was convicted for throwing acid on a woman. T
Petitioner counsel informed the court that the victim had "forgiven" his client. But the chief justice said that there could be no compromise in a case concerning an acid attack.
"The affected woman may forgive [the convict], but the law cannot forgive an acid attack suspect," he added. He said the petitioner had committed "extreme cruelty" by attacking the woman with acid. He said the punishment for throwing acid was life imprisonment and that it was a "crime against the state".