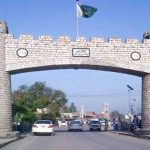 ISLAMABAD— The Supreme Court of Pakistan (SC) on Thursday disposed of the federal government's contempt of court plea against Imran Khan over his violation of the apex court's orders during PTI's 'Azadi March'.
The federal government had earlier filed a petition in the Supreme Court for registering a contempt of court case against PTI Chairman, Imran Khan.
Attorney General of Pakistan (AGP) Ashtar Ausaf Ali moved the plea. The five-member bench – headed by Chief Justice of Pakistan (CJP) Umar Ata Bandial – will hear the plea later today.
According to details, the government has pleaded in the petition that despite the court's orders, Imran Khan directed his party workers to reach D-Chowk in Islamabad. Moreover, amid violation of court orders, state property was also damaged during the Islamabad long march.
"Contempt of court proceedings should be launched against Imran Khan for disobeying top court orders," the plea stated. The government has pleaded with the court to take action against Imran Khan.
To clarify, the SC on Wednesday allowed the PTI to hold its Azadi March rally in the H-9 area. The SC also restrained the government from arresting its leaders and workers in connection with the march. Furthermore, it ordered that the automobiles confiscated within the last 48 hours be returned to their owners.
The SC bench, in its order, said it hoped that the top PTI leadership would also tell the party supporters to not take the law into their own hands. As for the government, the bench had directed the government to provide security to the PTI's gathering.