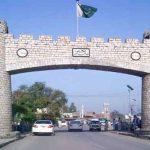 LAHORE: The Supreme Court on Tuesday rejected Awami Muslim League (AML) Chief Sheikh Rasheed's application against the postponement of general elections in NA-60 Rawalpindi.
The Supreme Court while sustaining the verdict of Lahore High Court's (LHC) Rawalpindi bench rejected Rasheed's application against postponement of elections.
The Election Commission of Pakistan (ECP) had postponed elections in NA-60 Rawalpindi after Pakistan Muslim League-Nawaz (PML-N) candidate from the same constituency Hanif Abbasi was convicted in ephedrine case.
Shiekh Rasheed moved the LHC's Rawalpindi bench against the decision; however, the LHC upheld the decision of ECP and rejected Rasheed's plea.
Against the rejection of his application, Sheikh Rasheed then filed an application in the Lahore registry of Supreme Court challenging the verdict of LHC.