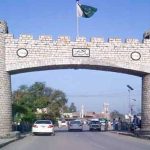 ISLAMABAD: The Supreme Court of Pakistan on Monday issued a notice to the federal government to submit a detailed reply on a petition seeking to build controversial Kalabagh Dam.
A bench of the apex court, headed by Chief Justice Mian Saqib Nisar, was hearing the petition calling for construction of reservoirs to preserve fast depleting water resources.
The bench directed an additional attorney general, who was present in the courtroom, to submit the reply on behalf of the government within fifteen days without delay.
Justice Umar Ata Bandial observed that there was no doubt about the need to construct dams in the country, but there was no consensus among the provinces over the issue of Kalabagh Dam.
He said the Council of Common Interests (CCI) had also given its decisions in this regard, which couldn't be implemented.
The petitioner pointed out that there was a dire need to take measures to preserve water and that the existing water resources will cease by 2025 provided that no steps were taken in this regard.
If there was a controversy over the name of the dam, then its name should be changed to Benazir Dam, he suggested.
Upon this, Justice Ejazul Ahsan said the controversy was more than just the name.
The chief justice asked a federal law officer to spell out what steps the government had so far taken to address the issue.
He directed the government to take measures for preservation of water resources. The hearing was adjourned for 15 days.