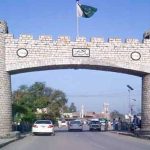 ISLAMABAD: The Supreme Court Friday set up a two-member commission to probe the water issues in Balochistan and directed it to submit its report within two weeks.
Chief Justice Mian Saqib Nisar, who headed a bench of the apex court, was hearing a suo motu case pertaining to non-availability of potable water in Balochistan's Bolan district.
Supreme Court Bar Association (SCBA) president Amanullah Kanrani will head the commission, while engineer Ghulam Usman Babai would be its member.
The court directed the agriculture and other provincial departments to cooperate with the commission in undertaking the task.
At the outset of the hearing, residents of Bolan district's Bagh Nari area informed the bench that water schemes were approved for the area in the past but couldn't see the light of day.
At this, the chief justice remarked entire government funds go into payment of salaries to employees in lieu of development work.
The Bolan deputy commissioner said a water filtration plant will be installed in the area within two months.
CJP Nisar summoned the SCBA president and directed him to inspect and submit a list of the areas of the province facing water issues.
He directed Mr Kanrani to put forward suggestions as to how water issues could be resolved in these areas, adding that Bolan district alone didn't face the issue.
If need be, he would summon the chief executive of Balochistan and the entire provincial cabinet, he remarked.