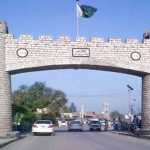 ISLAMABAD: The Supreme Court (SC) on Tuesday expressed dissatisfaction over Federal Investigation Agency's (FIA) role in nabbing former Pakistan's ambassador to the United States Hussain Haqqani in Memogate scandal.
A three-member bench of the apex court headed by Chief Justice of Pakistan (CJP), Justice Saqib Nisar heard the Memogate scandal case.
During the proceedings, the court asked as to how Haqqani fled the country and termed it a matter of court's respect.
He asked the FIA representative as to what action has been taken for the repatriation of Haqqani.
FIA informed the court that letters have been written to Foreign and Finance ministries regarding the matter and a case has also been registered against Haqqani.
The court ordered FIA to complete all the records in the case and adjourned hearing until tomorrow.
The court also summoned Interior Minister Ahsan Iqbal and Foreign Minister Khawaja Asif for the next hearing.