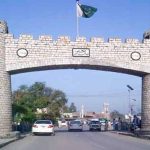 ISLAMABAD: A three-member bench of the Supreme Court (SC) headed by Chief Justice of Pakistan Justice (CJP), Justice Saqib Nisar summoned Pakistan Muslim League-Nawaz (PML-N) leader Nehal Hashmi tomorrow in a case pertaining to contempt of court.
The CJP ordered Nehal Hashmi to appear before SC's bench on Wednesday when the bench took up Hashmi's plea against his disqualification as a senator last month.
Hashmi, a PML-N senator, was jailed for a month and disqualified for five years by the apex court on Feb 1 over his contemptuous remarks made last year.
A video of Hashmi's media talk on February 28 after his release was also played in the court, after which the bench also summoned transcript of the media talk.
"We have chosen the course of our action", remarked the court and said that adding that the entire Pakistan heard the abusive language of Nehal Hashmi.
The chief justice also observed during the hearing that Hashmi's punishment term could also be extended over his controversial remarks following his release from jail.