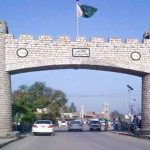 LAHORE: The Supreme Court of Pakistan on Saturday ordered the chief secretary of Punjab to submit a detailed report on the Chief Minister's use of taxpayers' money for self-publicity.
During hearing of the Punjab government's free laptops scheme, the Chief Justice questioned that why the CM Punjab's picture being printed on laptops is purchased with the taxpayers' money.
The apex court had taken a suo motu notice of the printing of Shehbaz's pictures on the laptops distributed under the provincial government's scheme.
Justice Nisar expressed his annoyance at political parties utilising public money for their publicity campaigns.
"Why do the pictures of Punjab CM surface everywhere…even date sheets have Shehbaz's pictures printed on them," he said. "Government officials are using the money of a nation burdened by debts for self-publicity."
The CJP warned the government officials to mend their ways while they still have time.
"The court is deeply concerned and apprehensive about the increasing national debt," said Justice Nisar.
The hearing was adjourned after the CJP ordered the province's chief secretary to submit a detailed report on the matter, including the total expense incurred on the laptop scheme.