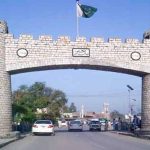 ISLAMABAD: The Supreme Court (SC) would hear petition of former prime minister Mian Nawaz Sharif regarding his six-week bail today.
A three-member bench of the apex court, headed by Chief Justice of Pakistan Asif Saeed Khosa will take up two petitions of the former prime minister. Tough security arrangements have been made on this occasion.
Nawaz Sharif has filed a petition for extension in his six-week bail, which would expire on May 7. Similarly, the former prime minister has also filed a review petition in the apex court, pleading to review its decision regarding barring him from going abroad for treatment.