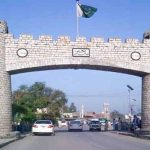 KARACHI: The Supreme Court will hear suo motu case of the extrajudicial killing of Naqeebullah Mehsud at its Karachi Registry today.
A three-member bench, headed by Chief Justice of Pakistan Justice Saqib Nisar will hear the case, after the apex court took notice of the case earlier this week.
Naqeebullah, a 27-year-old native of Waziristan, was among four suspected terrorists killed in an 'exchange of fire' with a police team led by the then-Malir SSP Rao Anwar on January 13 in Shah Latif Town, Karachi.
Following claims of innocence from Naqeebullah's family, an inquiry committee was formed, after which Anwar and the raiding police party officials went into hiding. Anwar and his associates were also suspended by the government and an FIR was registered against them owing to their no-show and alleged involvement in the case.
The inquiry committee, headed by Counter-Terrorism Department Additional IG Sanaullah Abbasi, submitted its report on the case to the Supreme Court on Friday, which states that Naqeebullah was picked up from Sohrab Goth on January 3 along with two others.
The two people picked up with him were let go after giving bribes, the report states, adding that their statements have been recorded and made part of the investigation.
The report states that 26 casings of sub-machine guns in use by the police were recovered from the site of the 'encounter' and there was no evidence of firing from the victims — alleged terrorists.
It adds that all the officials involved in the incident have gone into hiding.
The apex court had taken notice of Anwar's reported attempt to leave the country earlier this week, after which the suspended police officer's name was placed on the Exit Control List.
The Supreme Court has also summoned Anwar and senior officials of the Sindh government at its Karachi Registry today.
The bench under Chief Justice Saqib Nisar will also hear other important cases at the Karachi Registry today, including china-cutting on amenity plots, sea and industrial pollution, unfit drinking water, and admissions in private medical colleges.