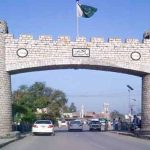 ISLAMABAD: Leader of the Opposition Khursheed Shah has on Wednesday said that decision of Panama case can either strengthen or weaken Pakistan.
Khursheed Shah, commenting on much awaited decision, said my vision is very clear keeping the past in mind, but it is possible that some miracle happens regarding the verdict.
Awami Muslim League (AML) chief Sheikh Rasheed said that Pakistan is in process of rebuilding and noose around corruption is tightened. Sheikh Rasheed said that this decision will be remembered for centuries as the corrupt will be punished, and people along with rule of law will emerge victorious.
It is worth mentioning here that Supreme Court (SC) will announce Panama case decision on Thursday at 02:00 PM for which the whole nation and politicians are waiting eagerly.