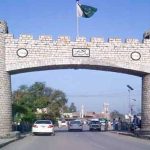 ISLAMABAD: Chief Justice of Pakistan (CJP) Justice Mian Saqib Nisar on Monday warned he will revoke former finance minister Ishaq Dar's passport over failure to appear before the Supreme Court today.
"Where is Ishaq Dar?" the chief justice questioned the attorney general of Pakistan (AGP) as he headed a three-judge bench of the apex court.
The bench is hearing a suo motu case related to former Pakistan Television (PTV) chief Attaullah Haq Qasmi's appointment as managing director (MD) as well as the amount of salary and perks he received both as chairman and MD of the state-run TV.
"We will revoke Dar's passport as he did not before the court despite being summoned," Justice Nisar warned.
He further said, "We will mull over issuing red warrants against Dar."
Directing that Dar's counsel be summoned to inform the top court as to why his client did not appear for the hearing today, Justice Nisar said, "We will do whatever is necessary to ensure Dar returns to the country."
Justice Nisar then summoned Interior Ministry officials to apprise the court of the steps necessary for the former finance minister's return.
The hearing of the case has been briefly adjourned till Interior Ministry officials appear before the three-judge bench.
During the last hearing of the case on July 5, Justice Nisar had observed that he will announce his decision in the case today and had summoned Dar and the former finance secretary to record their statements.
Qasmi, a noted author and playwright, was appointed the chairman of PTV in 2015 but in April 2017, appointed himself the MD as well, sparking controversy.
The court was informed by the additional attorney general and information secretary that Qasmi had reportedly received a total of Rs278 million in salaries and advertising cuts during his two-year stint at the state TV channel.
Qasmi is a recipient of the Pride of Performance Award, Sitara-e-Imtiaz and Hilal-e-Imtiaz.